Dates for Seminars and Workshops
Workshop for the evaluation of interlaboratory studies with PROLab
This workshop is offered in German and English language.
German workshop
When: 13.-15. June 2018
Where: Dresden
English Workshop
When: 19.-21. September 2018
Where: Berlin
Workshop for in-house method valdiation studies with InterVAL
This workshop is only offered in English language.
More information on the workshop outline will soon be available.
When: 14.-16. November 2018
Where: Berlin
Past Webinars
Get a taste of our webinars by checking out these clips from our last webinars (full version available by request).
Also we gave two lectures on new approaches in the field of proficiency testing in October 2017. One of them at the PT Conf in Romania, and the other at the Eurachem PT Workshop in Slovenia.
Our presentations attracted wide interest, and we want to share them with everyone who had not the chance to attend.
Precision profiles and z score profiles
About: A QuoData initiated proficiency testing scheme. Within the proficiency test new approaches have been utilized to provide more reliable information on the performance of laboratories with the help z score profiles. This webinar is related to our contribution at the PT Conf 2017, in Romania.
Here you can download a summary of the webinar: https://quodata.de/s/Abstract_PTConf_2017.php
"Taking laboratory measurement uncertainties into account in assigned value estimates"
About: The consideration of laboratory specific measurement uncertainties for the performance assessment of labs within proficiency tests. This webinar is related to our contribution at the Eurachem PT Workshop 2017, in Slovenia.
Here you can download a summary of the webinar: https://quodata.de/s/Abstract_Eurachem_2017.php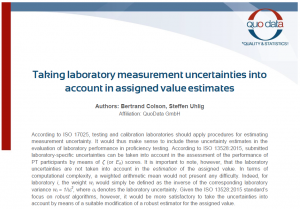 Have an idea for an upcoming webinar? Send us an email at Sebastian.Pohl@quodata.de