Press


Feb 6th, 2018

Method validation and proficiency testing - upcoming QuoData workshops
As a service provider in the field of analytical quality assurance, QuoData regularly offers a number of workshops. These are excellent opportunities to gain first-hand knowledge, to learn about the latest developments in international standardization and to exchange with the QuoData experts. The following workshops are currently planned for 2018:
Workshop for the evaluation of proficiency tests and method validation studies with PROLab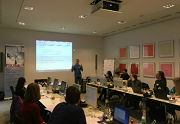 This workshop focuses on the most relevant international standards for interlaboratory studies such as ISO 13528, ISO 5725 and ISO/IEC 17043. The requirements of these standards with regard to the planning and evaluation of proficiency tests and interlaboratory method validation studies will be demonstrated in the software PROLab based on real-life data.
Participants benefit from the know-how of the qualified QuoData experts involved in international standardization.
Dates: 19-21 September, 2018 in Berlin (Language: English)
Dates: 13-15 June, 2018 in Dresden (Language: German)
Workshop for in-house method validation studies with InterVAL
This QuoData workshop focuses on the comprehensive validation of in-house methods. As part of the workshop, participants prepare validation studies, evaluate them with the InterVAL software and become familiar with the underlying statistics.
The workshop is suitable for experienced users as well as InterVAL beginners.
Dates: 14-16 November, 2018 in Dresden
Further information on upcoming QuoData workshops and webinars.