Press


Nov 8th, 2018

QuoData presents research results at AOAC, BERM-15 and FachPack
QuoData regularly attends events of the scientific community all over the world to present novel approaches for analytical quality assurance and establish further contacts.
132nd AOAC Annual Meeting & Exposition: 26 - 29 August 2018
At this meeting in Toronto, Canada, leading scientists met to discuss a variety of analytical requirements and new standards in the field of quality assurance. The CEOs of QuoData were also present.
By participating at international conferences such as AOAC (The Association Of Analytical Communities), QuoData stays in touch with its numerous customers and partners, for example from North America.
QuoData presented the following scientific contributions, which focused on machine learningadapting its concepts for food safety and microbiology, for example. German Federal Office of Consumer Protection and Food Safety and akees GmbH were involved in the contributions:
"A.I. Methods for food fingerprinting"
"Bacteria Classification by MALDI-TOF-MS with CNN"
"New approaches for validation: factorial inter-laboratory study design"
"Taking laboratory measurement uncertainties into account in assigned value estimates"
"Bacteria Classification by MALDI-TOF-MS with CNN" deals with the detection and identification of microbial pathogens using Convolutional Neural Networks (CNN).
"A.I. Methods for food fingerprinting" focuses on application of Artifical Intelligence (A.I.) to validate methods for detecting food fraud.
BERM-15: 24 - 26 September 2018
At this event in Berlin several QuoData scientists exchanged information with many existing and potential partners from the field of reference materials (RM) and proficiency testing.
Current developments in the production and application of reference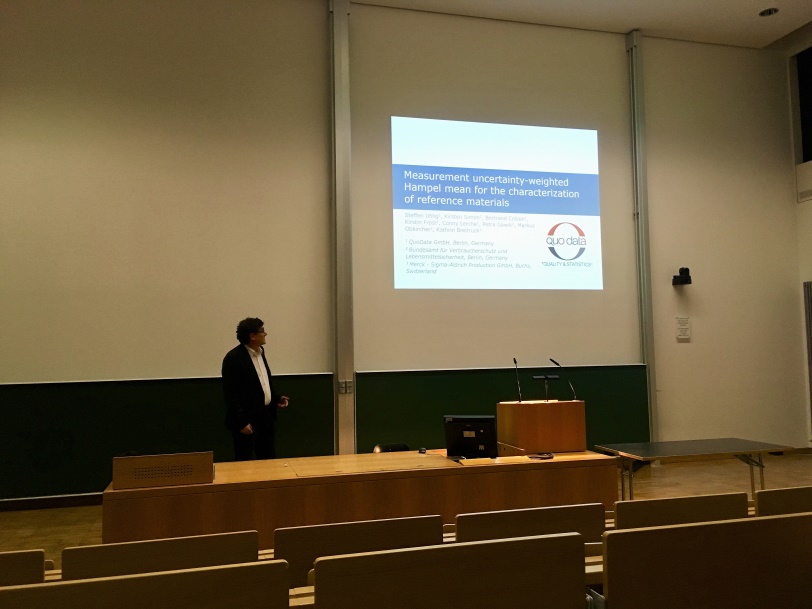 materials from accreditation bodies and RM manufacturers were presented and discussed. The CEO of QuoData Steffen Uhlig gave a talk on the topic "Measurement uncertainty-weighted Hampel mean for the characterization of reference materials".
When characterizing reference materials, the results of laboratories can be weighted with the help of the Hampel estimator with regard to their reported measurement uncertainties and thus more meaningful evaluations can be carried out.
FachPack 2018: 25 - 27 September
On September 27, Christian Bläul, head of QuoData-IT, presented the joint research project "IntelliDate" of the Federal Ministry of Food and Agriculture at the FachPack in Nuremberg.
Using ESL milk as an example, QuoData develops a prediction algorithm for the actual date of expiry. The algorithm is based on the evaluation of quality measurements of ESL milk under real storage conditions. On this basis, an app is developed for the consumer that reads information from a sensor.